DIY Apple Pie Spice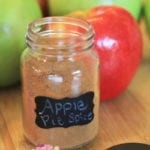 Apple pie spice is so easy to whip up and keep on hand without running to the store to buy the specialty spice. The added bonus of getting to tailor it to your specific liking is a real win!
Scale
Ingredients
4 Tbsp ground cinnamon
1 Tbsp ground nutmeg
1 tsp ground ginger
1 tsp ground allspice
1 1/2 tsp ground cardamom
In a small coffee grinder, blend together all of the spices so that they are finely ground and mixed well.  If you dont have a coffee grinder, shake it really well for about 5 minutes and call it a win. 🙂 
Enjoy!