Minestrone Soup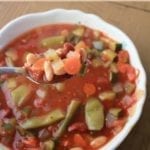 When I go to Olive Garden, I love to get their Minestrone Soup.  I omit pasta and I keep this in my freezer in single serve portions.  Minestrone Soup is the perfect start to any meal and especially delicious with breadsticks, salad, and wine.
Scale
Ingredients
3 Tbsp olive oil
1 yellow onion, diced
1 zucchini chopped
14 oz frozen Italian or French style green beans
2 stalks celery, diced
4 tsp minced garlic
4 cups vegetable broth
2 cans (14oz each) red kidney beans drained
2 cans (14oz each) great northern beans drained
26 oz box of Pomi chopped tomatoes (do not drain)
1/2 cup shredded or matchstick carrots
4 oz tomato paste
1 tsp oregano
1 tsp basil
1/2 tsp thyme
1/2 tsp garlic salt
1 tsp salt
1/2 tsp onion powder
4 cups hot water
1 Tbsp chicken boullion paste
Saute onion and celery and garlic in the olive oil until tender.
Add all ingredients to a large stock pot and bring to a boil.  Simmer on low for 45 minutes.
OR saute onion and celery and garlic in olive oil then add all ingredients to a slow cooker and cook on low all day.
Enjoy!
Notes
Make this in 45 minutes on the stove top.  Let it simmer while you help kids with homework or finish up some daily chores.  OR, make this in the slow cooker.  Toss all the ingredients in your slow cooker on low and let it simmer all day until you are ready for dinner.  This is such an easy soup, it will quickly become a favorite for you.