Frosted Eggnog Cookies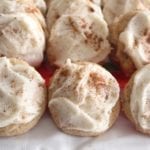 Make these Frosted Eggnog Cookies as soon as possible and devour each delicious, soft, melt in your mouth bite.
Scale
Ingredients
For the cookies:
3/4 cup butter, soft at room temperature
1/2 cup sugar
1/2 cup packed brown sugar
2 egg yolks
1 tsp vanilla extract
1/2 tsp rum extract
1/2 cup eggnog
2 1/4 cups flour
2 tsp baking powder
1/2 tsp salt
1/2 tsp nutmeg
1/2 tsp cinnamon
For the frosting:
1/2 cup salted butter, soft at room temperature
4 Tbsp eggnog
1/2 tsp rum extract
3 cups powdered sugar
Preheat oven to 350 degrees.  Line a baking sheet with parchment paper and set aside.
In a large mixing bowl, cream together butter and sugars until light and fluffy.  Add in eggs, vanilla, and rum extract.
In a medium bowl, add flour, baking powder, salt, nutmeg, and cinnamon.  Stir together.
With mixer turned on low, slowly add in dry mixture to butter mixture, alternating with
Notes
The rum extract is what takes these cookies to the next level!  It is the reason they taste better than any other eggnog recipe out there.