Hot Buttered Rum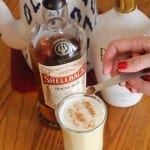 Scale
Ingredients
1

lb unsalted butter, room temperature

6

eggs, room temperature

2 Tbsp

vanilla extract

2

lbs powdered sugar
Spiced Rum
Rum Chata
Pumpkin Pie Spice for sprinkling
In a large bowl, whisk together butter, eggs, and vanilla. Whisk on medium for 5 minutes. Will get nice and frothy.
Add in 2 Tbsp vanilla and slowly add in powdered sugar while whisking. Mix until fluffy and very very smooth.
Freeze. Will be like ice cream.
To make drink, use 1/4 cup butter batter (about 1 ice cream scoop), 1/2 shot spiced rum, 1/2 shot Rum Chata, and 6 oz boiling water. Stir together. When top is frothy, sprinkle with pumpkin pie spice and serve.
Skip the rum and Rum Chata and add a splash of half and half before sprinkling with spices.