Print
Copy Cat Texas Roadhouse Rolls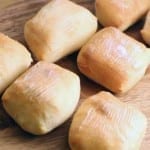 Scale
Ingredients
2 1/4 tsp

dry active yeast

1

/14 cup milk, salded and cooled to room temp

1/4 cup

honey

1/4 cup

melted butter, cooled to room temp

1

egg

1 tsp

Kosher salt

4 cups

flour
Melted butter to brush on rolls
Scald your milk on the stove and then allow to cool to room temperature.
In the mixing bowl of your electric mixer, disolve the yeast in the warm milk and stir in honey. Allow to sit for 5 minutes to foam up.
Mix in melted butter, egg, and kosher salt. Slowly add in flour.
Using bread hook, allow dough to knead for 7-8 minutes until smooth and slightly sticky to the touch.
Transfer dough to greased bowl. Grease the top of the dough and cover to let rise for 1 hour (unitl doubled in size)
Punch down dough and allow to rest on counter for 10 minutes.
Roll out dough in to a rectangle about 1 inch thick and slice in to squares.
Place squares on to greased cookie sheet and preheat oven to 350.
Once rolls have risen to nearly double in size, bake them for 10-13 minutes, until golden brown.
Remove browned rolls from oven and brush with melted butter.
Enjoy!